We get it, bringing cybersecurity into classroom discussions and after-school programming can be intimidating. You may be overwhelmed with questions like:
Where do I start?
What kind of resources or tools do I need to teach cybersecurity?
What if a student asks me a question I can't answer?
At what age is it appropriate for students to be exposed to cybersecurity?
Or even, 'What IS cybersecurity in the first place?
We're here to help you learn more about the use of competitions and games to educate and prepare the next generation of cybersecurity professionals.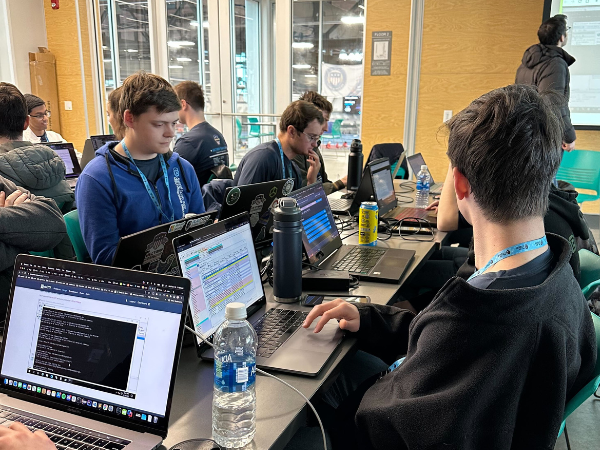 GET YOUR STUDENTS INVOLVED EARLY IN THEIR CYBER EDUCATION
AND USE GAMING TO GET THEM EXCITED ABOUT A CAREER IN CYBERSECURITY.
The Power of Games in Cybersecurity
The Demand for Skilled Cybersecurity Professionals is Growing Every Day.
While education, certification, and apprenticeship are important training instruments, games provide a safe and legal place to practice offensive and defensive techniques in a real-world environment with others.
Cybersecurity games help a growing number of individuals realize that cybersecurity goes beyond initial thoughts of IT security controls by delving deeper into motives, tactics, techniques, and multi-pivot strategies. It helps us see that cybersecurity is about motives, not just controls.
Games remove the stigma of stereotypes associated with cybersecurity and open a path for players from all kinds of backgrounds, nationalities, education levels, and age groups to learn and grow. This infusion of diverse skills and mindware will contribute to up-leveling our cybersecurity workforce.
Games adjust to all skill levels and types. While red versus blue remains a favorite format, today's games can also be focused on policy, forensic puzzles, clue-based escape rooms, and jeopardy questions. This variety trains the workforce for defense in depth and breadth to enable comprehensive risk strategies.
Today's cyber strategies are about more than just finding needles in haystacks, they are about visibility into and across the surface of the haystack. Unlike traditional classroom teachings and labs, games can provide more real-life, immersive experiences that help athletes experience indicators and threats, and respond through the hands-on application of tools, techniques, and mitigations.
Download our poster now and get your students involved in the US Cyber Games.
Let's inspire the next generation of cybersecurity professionals and help secure a safer digital future for all.

SEASON III,
US Cyber Games
JUNE 1, 2023 | US Cyber Open Kick-Off Event
JUNE 2 - 12, 2023 | Season III, US Cyber Open - All ages and all skill levels welcome
JUNE 2, 2023 | Beginner's Game Room Starts

JUNE 5, 2023 | US Cyber Open CTF Starts

JUNE 5 - 9, 2023 | Cyber Rush Week
JULY 7 - SEPTEMBER 1, 2023 | Season III, US Cyber Combine
JUNE 9, 2023 | Application Deadline
JUNE 26, 2023 | Invitations Sent
Cyber athletes invited to the US Cyber Combine and potentially drafted onto the US Cyber Team MUST BE:
No older than 25 years of age on August 31, 2024.

A U.S. Citizen with the ability to obtain a U.S. passport.

Willing and able to travel.
OCTOBER 16, 2023 | Season III, US Cyber Team Draft Day
LEARN MORE ABOUT THE US CYBER GAMES
Interested in having one of our coaches, athletes, and/or staff talk to you and
your students

?

We'd love to help you learn about the following topics:
Using cyber games to improve your skills.
How to create a cyber club or program at your school.
What it's like to play in a CTF (capture the flag) competition.
What it's like to be a member of the US Cyber Team.
What coaches look for in team members.
Skills you need for a career in cybersecurity.
The NICE Framework and cybersecurity work roles.
The US Cyber Games: An Overview + Season Timeline.
Presentation
Presentations are virtual unless a US Cyber Games speaker is located near your school

.

Presentations are held via Zoom, but other virtual platforms can work based on preference.

Presentations can include multiple speakers.
Presentations are typically 45 minutes with 15 minutes of Q&A.
There is NO COST for a speaker.

We can provide US Cyber Games poster files and other printable resources for you to use around your school. Let us know what you require.
SPEAKING ENGAGEMENT INFORMATION
Thank You to All of Our


Sponsors & Partners