These sponsors and partners share our vision of bringing together and inspiring the very best cybersecurity athletes, building a stronger and more diverse community, and sustaining the United States' world-class competitive edge. We thank them for their support.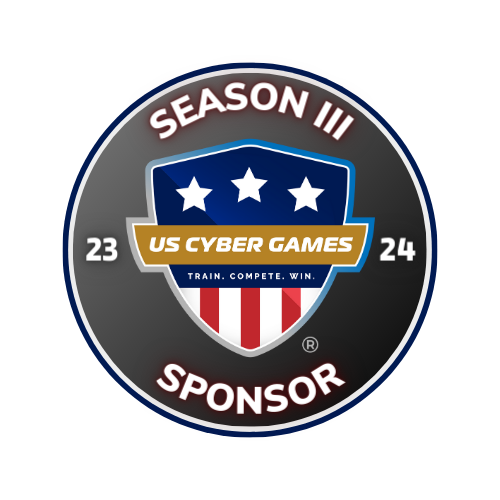 Thank You to Our Season III

Sponsors & Partners
Become a Sponsor or Partner
The US Cyber Games depend on the generosity of our corporate and university sponsors. We all know that the success of our cybersecurity industry depends on sourcing and training talent to reduce the workforce gap. We're seeking organizations to share our overall mission and sponsor the program!
PlayCyber, powered by Katzcy, delivers epic Cyber Games and Esports for fans, sponsors, and players. We are dedicated to bringing together and inspiring the very best cybersecurity athletes, building a stronger and more diverse community by delivering the world's most exciting cyber games experience. Cyber Games are a fundamental element to developing the next generation of a diverse and well-qualified community of cybersecurity talent. Games not only help build a better workforce, but they also keep the current workforce sharp and maintain a thriving community of cyber professionals prepared for what the future might hold in cyber-attacks and possible disruptive innovations.
THE NICE PROGRAM AT THE NATIONAL INSTITUTE OF STANDARDS AND TECHNOLOGY (NIST). NICE focuses on efforts to close the hiring gap in the cybersecurity workforce. We are led by the National Institute of Standards and Technology (NIST) in the U.S. Department of Commerce, and are a partnership between government, academia, and the private sector focused on cybersecurity education, training, and workforce development.There are many ways to get involved. You can attend our events – the NICE Conference & Expo is held annually, typically in early June, and the NICE K12 Cybersecurity Education Conference is held annually in early December. The NICE Program Office also hosts free webinars as well as monthly working group meetings. Visit our about page for more information.
Leidos is a Fortune 500® technology, engineering, and science solutions and services leader working to solve the world's toughest challenges in the defense, intelligence, civil, and health markets. The company's 43,000 employees support vital missions for government and commercial customers. Headquartered in Reston, Virginia, Leidos reported annual revenues of approximately $13.7 billion for the fiscal year ended December 31, 2021. For more information, visit www.Leidos.com.
We reshape the digital economy so everyone — individuals, financial institutions, governments and businesses — can realize their ambitions. We work to connect and power an inclusive digital economy that benefits everyone, everywhere by making transactions safe, simple, smart and accessible. Using secure data and networks, partnerships and passion, our innovations and solutions help individuals, financial institutions, governments and businesses realize their greatest potential. Our decency quotient, or DQ, drives our culture and everything we do inside and outside of our company.
At Battelle, we translate scientific discovery and technology advances into societal benefits. We deliver when others can't. We conduct research and development, manage laboratories, design and manufacture products, and deliver critical services for our clients – from multi-national corporations to small start-up organizations or government agencies. We use scientific and technological principles to create new innovations that drive our societies and economies forward. Our teams are global thought-leaders in applied science, technology, discovery and development. Our strength is rooted in our people who take on the world's most pressing problems.
For three decades, Protegrity has delivered innovative, data-centric protection for the most sensitive data of the largest brands on the planet. Our industry-leading solutions allow businesses to finally tap into the value of their data and accelerate digital transformation timelines – without jeopardizing individuals' fundamental right to privacy. We free businesses from the constraints associated with accessing and leveraging data to create better customer experiences, make intelligence-supported decisions, and fuel innovation. To make this vision a reality, we protect sensitive data anywhere and everywhere to create secure data agility that aligns with the speed of modern business. Data knows no boundaries and Protegrity's technology is built for data ubiquity.
QuintessenceLabs is at the forefront of quantum cybersecurity, providing the strongest data protection to keep your information safe against today's and tomorrow's threats. Our capabilities extend from quantum key generation and crypto-agile key management through to quantum key distribution, helping you build a quantum-safe future for your organization.
Dark Wolf Solutions combines emerging technologies with industry expertise to meet our clients' needs in DevSecOps, Agile software development, penetration testing and incident response, applied research and rapid prototyping, engineering, and consulting services. We consistently measure our workforce against experts from around the world through premier hacking competitions. This allows us to operate at the nexus of mission and technology to meet our Nation's most challenging missions.
Strivacity lets brands add secure log-in and identity management capabilities to their customer-facing applications without tying up a crew of developers or consultants. We offer a unified customer identity and access management (CIAM) solution that uses clicks (not custom coding) so organizations can get going fast and don't have to choose between creating great customer experiences, securing their customers' data and staying compliant with fast-changing privacy regulations like GDPR and CCPA.
Bring Your "A" Game! Archon Clothing is the original Lifestyle Gaming and Esports team apparel brand. Inspired by our love of games, Archon was founded to create fun everyday lifestyle apparel for fans of gaming. We are passionate about the product we make, the teams and people we work with and the community we have built.
Dual Core is a hip-hop duo composed of American rapper int eighty (David Martinjak) and British producer c64 (Chris Hunger). Their music is often categorized as nerdcore (a subgenre of hip-hop music).
Dakota State University (DSU) is located in Madison, S.D. Founded in 1881, DSU offers undergraduate, master's, and doctoral programs through its colleges of arts and sciences, business and information systems, computer and cyber sciences, and education. DSU has a special focus on the development, application, implications, and impacts of computing, information technologies and cyber security in all areas of human endeavor. DSU has received multiple Center of Academic Excellence designations in education, research and regional resource development from the U.S. National Security Agency and U.S. Department of Homeland Security. DSU is home to the Madison Cyber Labs (MadLabs®), a cyber R&D hub with labs and institutes that explore and advance technology applications, workforce development, business expansion, economic growth, and policy improvement across multiple disciplines and fields.
Carnegie Mellon University - Information Networking Institute
Developers and refiners, hackers and scholars, future CEOs and founders – find your spark of genius at Carnegie Mellon University's Information Networking Institute (INI). The INI offers master's degrees in information networking, security, artificial intelligence engineering -information security and mobile and IoT engineering.
Founded in 2012, the Women's Society of Cyberjutsu (WSC) is a National 501(c)3 non-profit community, focused on empowering women to succeed in the cybersecurity industry. WSC's mission is to advance women in cybersecurity careers by providing programs and partnerships that promote hands-on training, networking, education, mentoring, resource-sharing, and other professional opportunities. WSC serves thousands of women, men, and girls across the globe by bringing awareness to, and advancing careers in, cybersecurity. The WSC community includes information security professionals, IT professionals, programmers, computer scientists, and engineers, as well as women wanting to explore and join the field. Recognizing the importance of encouraging girls to embrace a future in STEM-related professions through its Cyberjutsu Girls Academy, WSC provides a unique hands-on curriculum focused on securing information technology.
Thank You to All of Our


Sponsors & Partners