These sponsors and partners share our vision of bringing together and inspiring the very best cybersecurity athletes, building a stronger and more diverse community, and sustaining the United States' world-class competitive edge. We thank them for their support.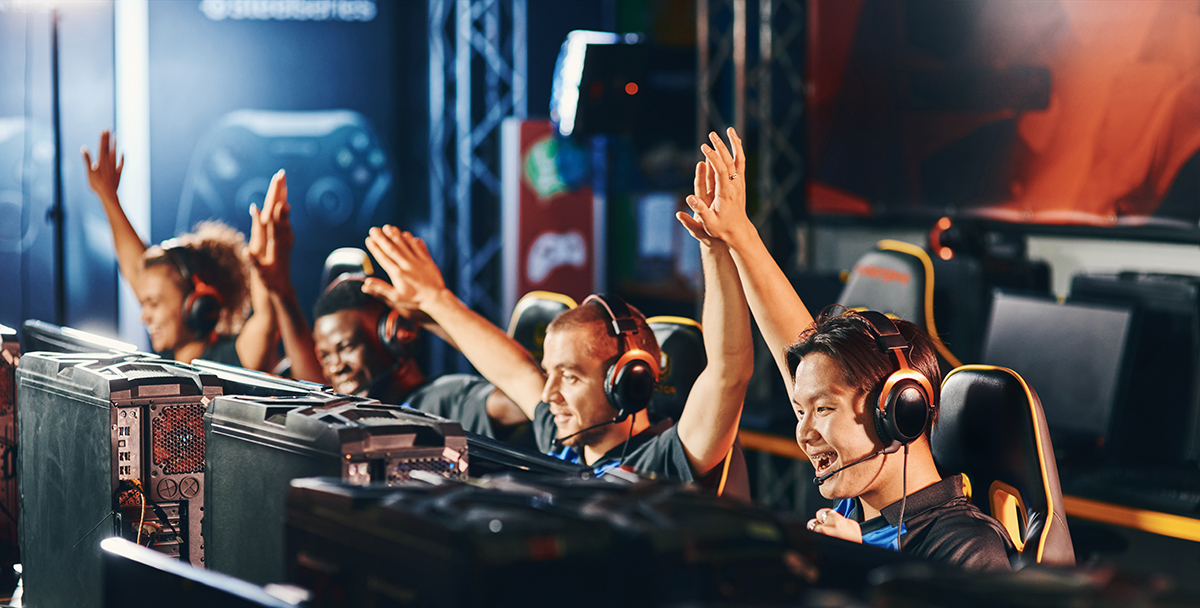 Thank You to Our Season II

Sponsors & Partners
Sponsor the Season II US Cyber Games & Team
The US Cyber Games depend on the generosity of our corporate and university sponsors. We all know that the success of our cybersecurity industry depends on sourcing and training talent to reduce the workforce gap. We're seeking organizations to share our overall mission and sponsor the program!
PlayCyber, powered by Katzcy, delivers epic Cyber Games and Esports for fans, sponsors, and players. We are dedicated to bringing together and inspiring the very best cybersecurity athletes, building a stronger and more diverse community by delivering the world's most exciting cyber games experience. Cyber Games are a fundamental element to developing the next generation of a diverse and well-qualified community of cybersecurity talent. Games not only help build a better workforce, but they also keep the current workforce sharp and maintain a thriving community of cyber professionals prepared for what the future might hold in cyber-attacks and possible disruptive innovations.
The National Initiative for Cybersecurity Education (NICE), led by the National Institute of Standards and Technology (NIST) in the U.S. Department of Commerce, is a partnership between government, academia, and the private sector focused on preparing, growing, and sustaining the cybersecurity workforce. The mission of NICE is to energize and promote a robust network and an ecosystem of cybersecurity education, training, and workforce development. NICE fulfills this mission by coordinating with government, academic, and industry partners to build on existing successful programs, facilitate change and innovation, and bring leadership and vision to increase the number of skilled cybersecurity professionals helping to keep our Nation secure.
Leidos is a Fortune 500® information technology, engineering, and science solutions and services leader working to solve the world's toughest challenges in the defense, intelligence, civil, and health markets. The company's 40,000 employees support vital missions for government and commercial customers. Leidos is headquartered in Reston, Virginia.
DOT Security is a MSSP providing Risk Management, vCISO, Compliance, Penetration Testing, and SOC services. We are a US-based (never outsourced), 24/7 monitoring, state-of-the-art security center. Whenever there's a threat, our team is already assembled with all of the tools they need to neutralize it. And you can trust that your information is safe in our center of operations because it always stays in-house, personally protected by DOT Security's own staff.
Founded in 2012, the Women's Society of Cyberjutsu (WSC) is a National 501(c)3 non-profit community, focused on empowering women to succeed in the cybersecurity industry. WSC's mission is to advance women in cybersecurity careers by providing programs and partnerships that promote hands-on training, networking, education, mentoring, resource-sharing, and other professional opportunities. WSC serves thousands of women, men, and girls across the globe by bringing awareness to, and advancing careers in, cybersecurity. The WSC community includes information security professionals, IT professionals, programmers, computer scientists, and engineers, as well as women wanting to explore and join the field. Recognizing the importance of encouraging girls to embrace a future in STEM-related professions through its Cyberjutsu Girls Academy, WSC provides a unique hands-on curriculum focused on securing information technology.
Raices Cyber Org is a Hispanic Association in Cyber Security and Technology (HACS). Founded in 2021 to support the LatinX and Hispanic community we are a fiscally sponsored 501(c)3 non-profit. "The Stronger the Roots the Stronger the Tree" is the mantra behind Raíces. Our mission is to encourage and support the Hispanic and Latino cyber and technology community to achieve greater representation in the world. We are doing that with our four main pillars. Continued support and encouragement to and from the community, education for all career levels, access to valuable resources, constructive networking and the forming of STRONG bonds ("Roots").